Loveland and Venice Theatre have been working together for 23 years! The collaboration between our two non-profit organizations gives students with intellectual/developmental disabilities the opportunity to learn life skills through theatre study. Participants meet at the theatre twice weekly throughout the season for classes and rehearsals which culminate in a full-scale production on Venice Theatre's MainStage.
Contact Sandy at 941-486-8679 for more information!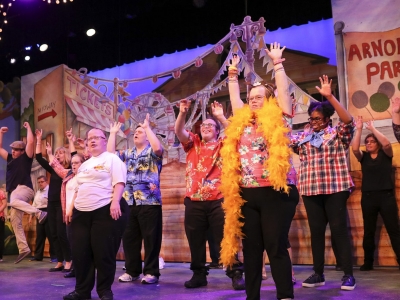 We are delighted to work with students from Loveland Center to present their annual musical performance.
Scene 1 from last year's show, "Planting Seeds."
"I wish my actors had the commitment your Loveland Players have."
Gary Walker, American Association of Community Theatre
"Thanks to all for another wonderful show at Venice Theater. We'd like to order tickets for the next 20 years for the Loveland shows, but we'll be patient and order them each year!!!"
Geri Neely and Vincent Kiefer, Audience Members
"It was magical!"
Gail Condrick, Audience Member
"It would have taken a heart of stone not to be moved by the performers."
Kay Kipling, Sarasota Magazine
"This was very, very deeply moving."
Paul Bourne, Festival Adjudicator