Help us build for the future
Area resident Carole Freeland Raymond encourages the community to give any amount toward her $500,000 match to help us grow.

Help us sustain our programs
The financial impact of the coronavirus (COVID-19) on Venice Theatre has been immense. As a result of event cancellations we have lost close to  $2 million in revenue.
That is why we are asking patrons to consider making a donation to the theatre at this time. This will help to limit the financial impact to the theatre and help our organization weather this difficult period.
Every year, Venice Theatre must raise around 25% of our yearly operating budget in contributed giving. Without the generous support of our donors, Venice Theatre would not have become the integral, enduring gem in the crown of our beautiful community for 70 years.
We strive to be the center for arts entertainment and education in south Sarasota County, to help students from all segments of the community build life skills through a diverse offering of outreach programs, and to provide seniors with entertainment and arts education. You can help us carry this long-standing tradition into the future through tax-deductible donations.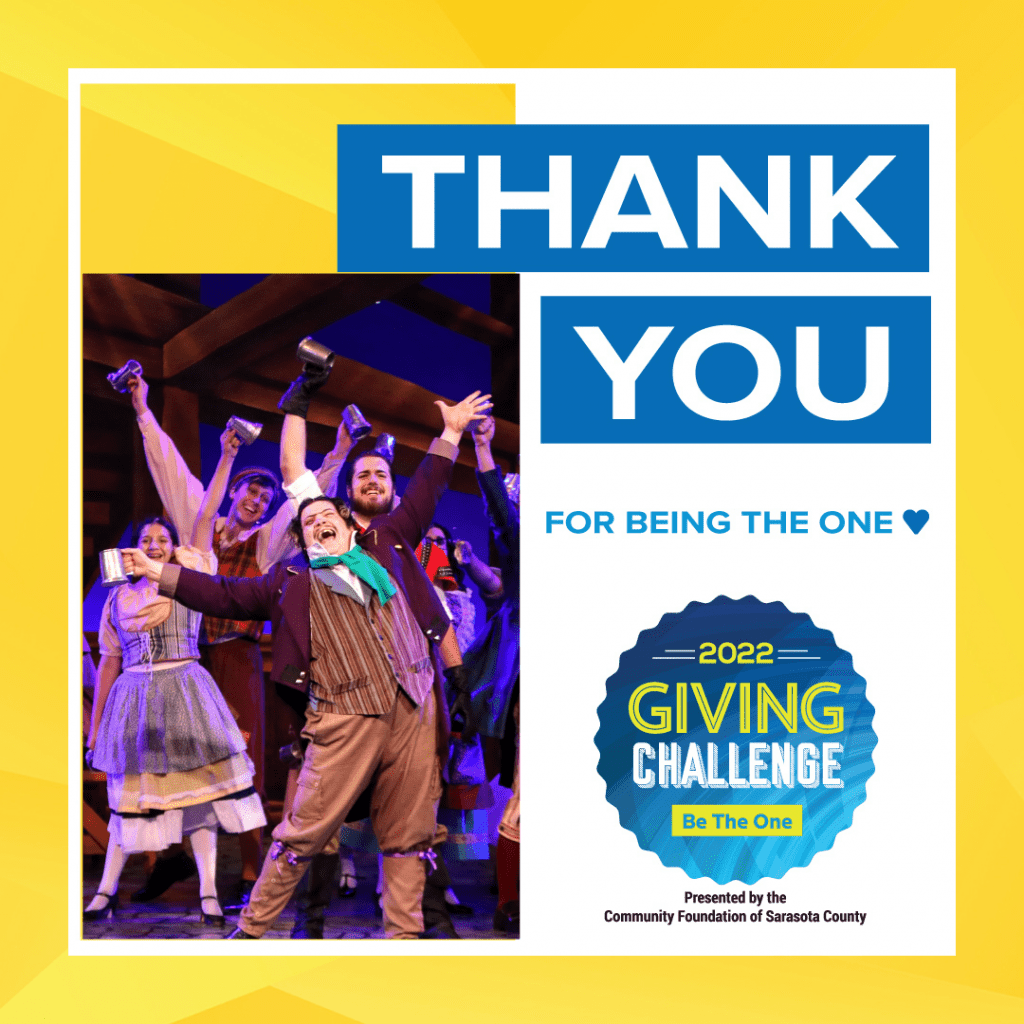 Thank you to all who contributed to the 2022 Giving Challenge sponsored by The Community Foundation of Sarasota County with giving strengthened by The Patterson Foundation. We're pleased to announce that Venice Theatre was the #1 arts and cultural group and #9 overall out of 669 organizations.
In just 24 hours, you gave $81,113 to your theatre! Add to that The Patterson Foundation match and prizes and our total came to $154,276. Thank you for being the one to help Venice Theatre THRIVE.
Join the Club
The Presidents Club is an exclusive group for Venice Theatre's most generous supporters. Donors at the $1,000+ level get special privileges like a reception preceding select performances of our MainStage Series. These receptions take place upstairs in our Presidents Club, and include a complimentary beverage.
Leave a Legacy
Venice Theatre has been making a dramatic impact on all stages of life since it was founded in 1950. You can help us continue this long-standing tradition through charitable bequests through your will or estate plan or by designating Venice Theatre as a beneficiary of your IRA or insurance policy. Gifts by Will and Trusts are among the easiest ways to make significant future gifts to the individuals and charities that matter most to you. Once you include a bequest provision in your will or trust for Venice Theatre you will be welcomed to our Legacy Circle and the benefits that accrue thereto:
Invitation to our annual Legacy Circle luncheon.

Special acknowledgment on our website and in our SHOWNOTES for MainStage Season productions.

Special invitations to our Education & Outreach Department's class showcase performances. 
OUR GROWING LIST OF LEGACY CIRCLE MEMBERS INVITES YOU TO JOIN THEM!
Daniel Cole
Fran Costa
James & Lynn Crandall
Cara Herman & Chris Cole
Bea Holt
Laura Kopple
Dennis & Ruthanne Neeser
June Novak-Bock
Darby Klein Park
Carole Raymond
Maggi Taylor
Eric D. Watters
If you already qualify as a member of Venice Theatre's Legacy Circle or would like to become a member, please email VT Director of Development, Eric Watters at ericwatters@venicetheatre.net.
Sponsor a Show
Every show needs a sponsor. If you would like to make a significant contribution in order to become a co-sponsor, sponsor, co-producer, or producer on one or more of our upcoming productions, please email VT Director of Development, Eric Watters at ericwatters@venicetheatre.net. Co-sponsors, sponsors, co-producers, and producers get special recognition on marketing materials for the productions they are supporting as well as their photo in a prominent location in our SHOWNOTES for Jervey MainStage Season productions.
CH-4124–Venice Theatre, Inc. meets all requirements specified by the Florida Solicitation of Contributions Acts. A COPY OF THE OFFICIAL REGISTRATION AND FINANCIAL INFORMATION MAY BE OBTAINED FROM THE DIVISION OF CONSUMER SERVICES BY CALLING TOLL-FREE 1-800-435-7352 WITHIN THE STATE. REGISTRATION DOES NOT IMPLY ENDORSEMENT, APPROVAL, OR RECOMMENDATION BY THE STATE.