By KIM COOL Features Editor
Venice Gondolier
What is "God's Country?"
If the United States has become anything like the play "God's Country" now at Venice Theatre, many might be moved to say "God help us."
Theater can entertain as it does in productions of "Gypsy," a classic Broadway musical to be performed at Venice Theatre, Feb. 24-March 26.
Theater also can educate or at least enlighten, as it does in the current Venice Theatre offering in its 90-seat black box Pinkerton Theatre.
Directed by Ric Goodwin, the 12-person ensemble cast manages to educate as much as it entertains, although in the case of this show's theme, the use of the word "entertain" might be a stretch
Penned by Steven Dietz, "God's Country" is a play about the white supremacy movement in this country — a movement that was anything but entertaining. Spreading hatred throughout the land, that movement was the inspiration for this work, which adds some fiction to the non-fiction premise for emphasis as well as shock value.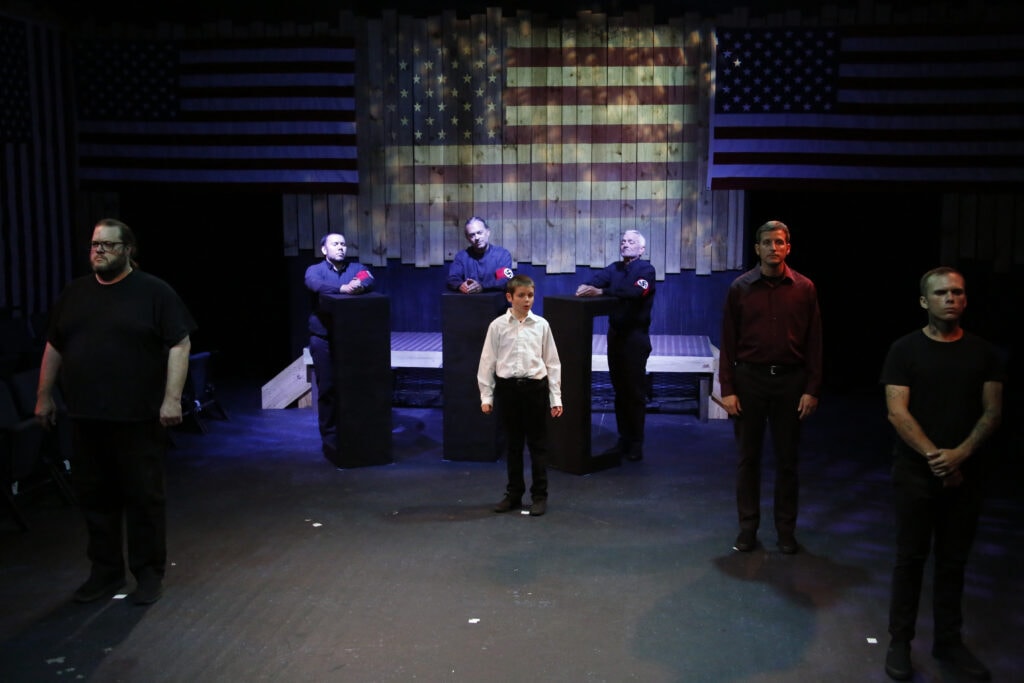 For further emphasis, there is music that might "soothe the savage soul" even as it might pull one from his seat to join the movement or move away — to another country or even a desert island.
While not a musical, there is plenty of music. It is not there to "soothe the savage soul," although it does include some uplifting music such as "The Star Spangled Banner." It is the other songs such as Beatles' song "Maxwell's Silver Hammer" about a killer named Maxwell Edison and "Armageddon Time" in which the group, The Clash, sing that "A lotta people won't a'get no supper tonight."
Other tunes in the show include "Down by the Riverside" as sung by Mahalia Jackson and the Harry Chapin song, "Cat's in the Cradle."
The 11 adult actors: Charley Riggs, Kathi Faulkner, Jimmie Choat, Lynne Doyle, Henry Barre, Megan Hendrick, Tanmart Selby, Daniel T. Cole, Brandon Dominique, Jeremy Guerrero-Heideman, Tik Roberston and one boy, Brennan Reisnger played multiple parts, with some costume changes, masks and such.
Brian Freeman's set wrapped the black box theater space with giant American Flags applied against every wall, which had first been covered with vertical wood boards. Video projections enhanced the story-telling.
So did the change in vocal delivery, which sometimes reached feverish yelling at full volume. With all this going on, a couple of benches and a small raised platform stage and video projections proved to be the finishing touches.
I expected fine acting from the likes of Guerrero-Heidemen, who has turned in a long list of stellar performances over the years at Venice Theatre. So has Doyle, who has performed at most area theaters, and Robertson, who has enhanced many a Venice production.
The entire cast performed well.
Lighting also plays a role in this show. Once again, Venice Theatre's lighting designer John Michael Andzulis added his skill to the production.
Proving the depth of this cast and fine directing was Reisinger as "Boy," the character whose final speech wrapped this barbed story with a silk ribbon. This is a young actor to watch.