By Jay Handelman, Sarasota Herald-Tribune
In 1936, publisher William Randolph Hearst financed a propaganda film to spread warnings about the dangers of marijuana. The film may have scared some parents (and perhaps their innocent children), but it gets a musical skewering in a lively style in "Reefer Madness," which is now running at Venice Theatre.
The stage show by Kevin Murphy and Dan Studney, first produced in 1998, puts a comedic spin on the deadly seriousness of the film, which long ago became a cult favorite in midnight screenings on college campuses.
It is over the top in style, from the cartoonish images of scantily clad women smoking weed on Tim Wisgerhof's attractively seedy multi-level set, to the comical overreactions by the characters to their first puff of the illegal substance. One drag turns you into a hooked zombie, like the ones who populate the opening title song.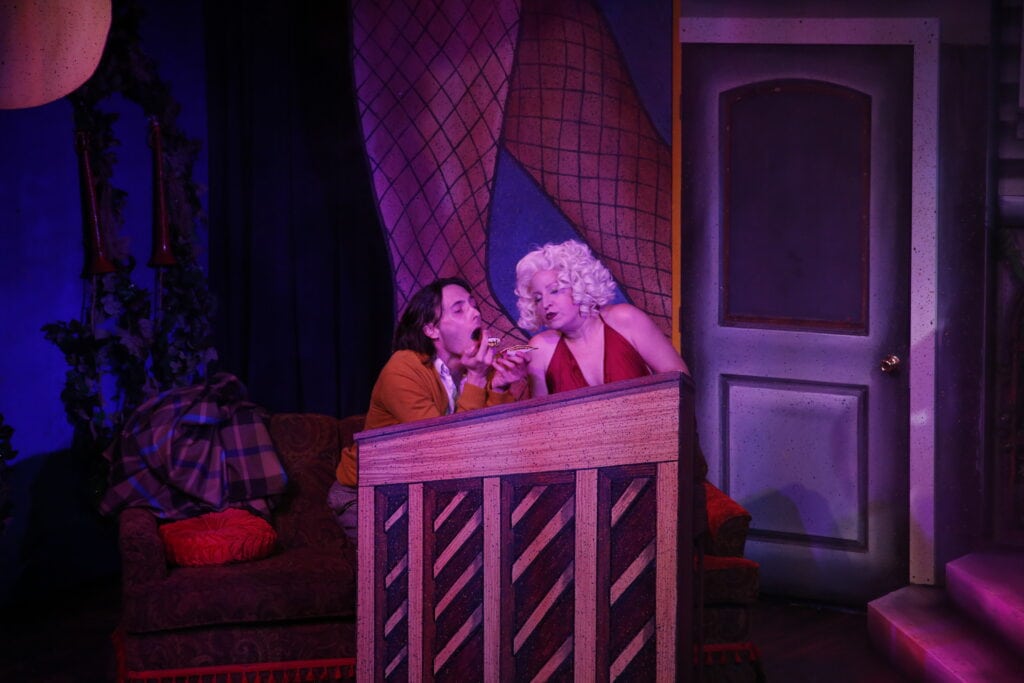 Director Kelly Wynn Woodland, who previously staged the show at Venice Theatre in 2009, and the Starlite Room in 2018, choreographer Jamon Buie, and the cast relish the satire and the ridiculous tone of imminent danger as the story follows high school sweethearts Jimmy Harper (Jason Ellis) and Mary Lane (Shannon Maloney)who begin a descent into the hell of the wicked weed.
Andrew Morgan Larkin serves as the upright and uptight narrator, who leads us through the story with the tone of an educator or preacher warning us away from the cliff, and smirking when someone dares to get too close to the edge. He also has fun with a few other more ribald characters.
As Jimmy, Jason Ellis perfectly captures the all-American boy-next-door type and the dizzying euphoria he feels after just one puff after he is lured into a drug den run by Mae (Caitlin Ellis). She is torn between battling her need for the drug and her distress at the way her abusive boyfriend and dealer, Jack Stone (Steven O'Dea), keeps recruiting teenagers as new customers.
Jimmy is immediately addicted and gets tangled up with the prostitute Sally (Vera Samuels), who earns laughs with her squeaky-voiced reactions to everything that happens. And in Wednesday night's performance, understudy Zach Tudor was fun to watch as a hanger-on who doesn't want to miss a hit.
Shannon Maloney as Mary gets to show a range of emotions from sweetly innocent to sultry when she is brought into the den.
They are joined by an energetic cast who put a lot of spirit into Buie's varied dance routines, set to a score that ranges from torchy ballads like Caitlin Ellis' take on "The Stuff" to jazzy group numbers.