By Morgan Simpson
Venice Gondolier
Despite the over 80-degree weather outside, an audience was transported to a winter night in Maine for the showing of Venice Theatre's "Almost, Maine."
Venice Theatre's 2021-2022 MainStage Series kicked off with the romantic comedy "Almost, Maine" written by actor and playwright John Cariani.
As the audience took their seats, they were greeted with a beautiful starry night in the woods serving as the consistent backdrop throughout an ever-changing set.
When the lights dimmed, before the characters came on stage, a wintry outside scene was projected onto the sides of the Jervey Theatre.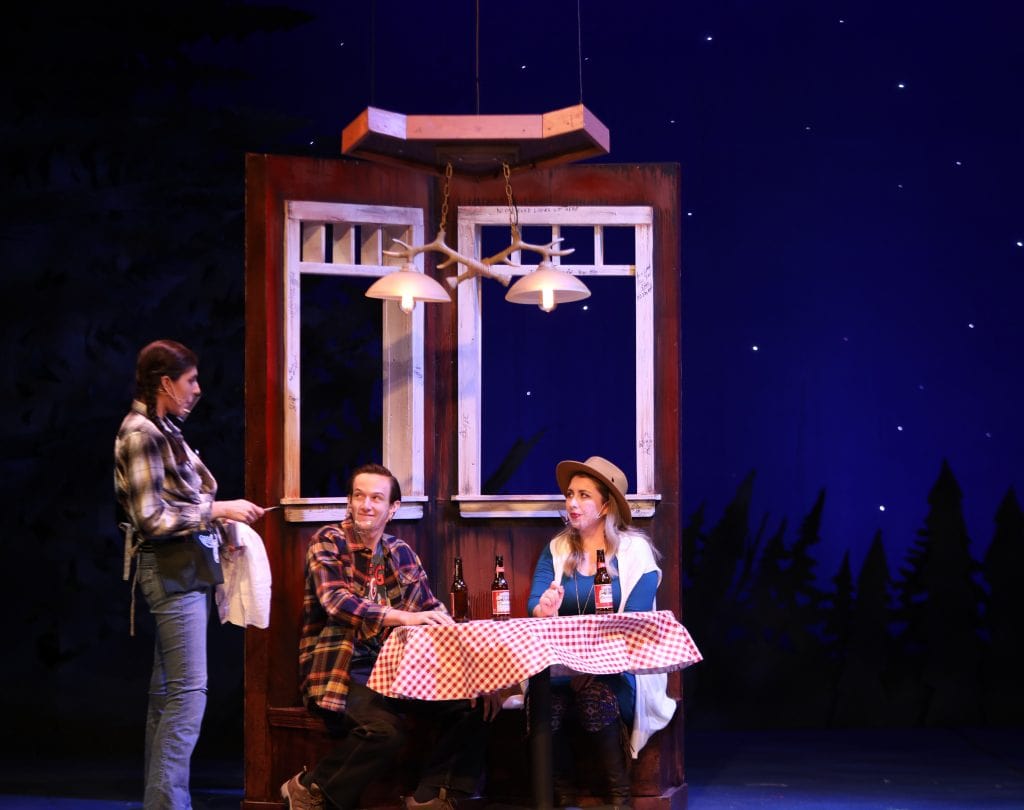 The audience followed along as nine different couples, with the cast playing several parts, fell in and out of love in sometimes funny and sad ways.
The nine story lines for each couple were reminiscent of TV show episodes coming to a quick conclusion or a movie that follows multiple people throughout the course of a day.
While none of the story lines converged, the characters mentioned the other characters names, which portrayed the small town feel of the setting in the mythical town Almost, Maine.
Each of the nine pairings showed the realness of how awkward love can be at times, whether it be a good awkwardness between new lovers or an awkwardness of ending a relationship.
The audience laughed and enjoyed the realness between different kinds of relationships at various stages of life.
One couple had never met before when the women stumbled upon a man's yard looking for the Northern Lights.
Another couple bickered about not understanding each other or not paying attention after years of marriage.
Along with the awkwardness, the play showed the miscommunication between couples that can either make or break a relationship.
Because the play was set around the universal topic of love, the audience felt for every situation that while at times funny, also pulled at the heart strings.
To keep the scenes constantly changing, the set was practical and minimal with each couple having their own distinct little set like a corner of a bar or the front door of a house.
For the changing sets, the cast had a good system with moving the props on and off stage in a comical and playful way.
Along with the beautiful constant background throughout, the lighting added an extra element.
Each time a couple's story was about to conclude, there was a change in the lighting signifying it.
Since the play's setting took place in Maine, the lights also depicted the Northern Lights, with green not only flashing across the stage but across the audience as well.
Everything in the play went smoothly with the audience laughing at the comedic ways people can experience love.
The actors and actresses wore face shields throughout the play. The shields often muffled their words, and for the scenes involving the characters kissing, the performers touched foreheads together instead.