By Kim Cool
Venice Gondolier
In voice and action, DaNiesha Carr and three talented musicians bring the late Billie Holiday to life in "Lady Day at Emerson's Bar and Grill" in the Pinkerton Theatre at Venice Theatre.
The setting, thanks to Venice Theatre's resident set designer Tim Wisgerhof, is Emerson's Tavern at 15th and Bainbridge Street in Philadelphia.
The time was before African Americans were equally welcomed in so many places throughout the U.S., even in such supposedly cosmopolitan cities as the home of the Liberty Bell.
Emerson's has long since closed and the building abandoned but memories live longer than such places, especially for fans of the late Billie Holiday, a troubled soul who was born in 1915 and died in 1959.
Just 43 years old, Billie seemed to have endured more demons and associated tragedies, despite having so much musical talent that her memory and her music live on to this day and likely well into the future.
Memories and recordings will ensure that but so will reenactments of portions of her life by the likes of Carr, who brings her back to life performance after performance in the reborn Emerson's at Venice Theatre.
Even those of us seated in theater seats around the perimeter as opposed to those at tiny tables closer to the stage are transported back in time to Emerson's.
Billie is a troubled woman. Her career is heading toward its finale. She needs a few trips to the bar to replenish her glass, several cigarettes to perhaps calm her jangled nerves and the friendship of her pianist, Jimmy Powers, beautifully played by William Coleman, the show's music director.
Bass player Connor Carden and drummer Joel Broome also add more than musical accompaniment. It is there in their faces, even though they have no speaking roles.
Powers serves as Emerson's emcee but also as Billie's friend and at least a portion of the support system she needed but lacked through most of her life.
"I want a beautiful home and kids," Billie says more than once between so many of the songs that she made famous and vice versa.
She arrives in a full length mink coat. A glass contains remnants of what is likely not the first drink of this evening nor, more likely, the day.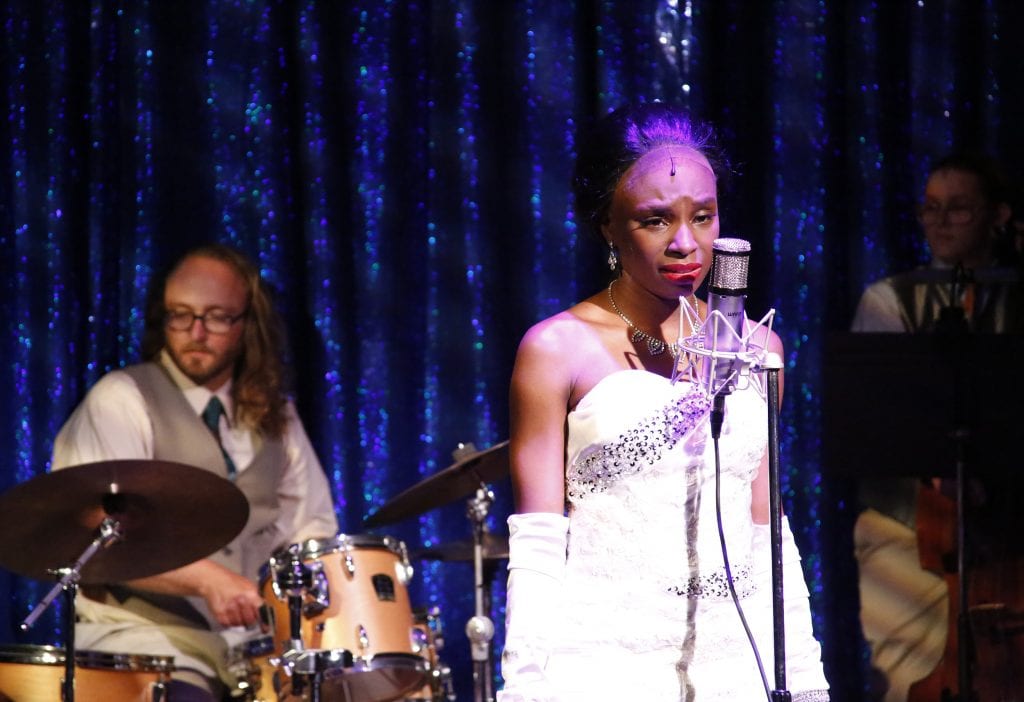 Shedding the coat, she is clad in a stunning long white gown. Her hair is elegantly coiffed and she is ready to sing. But along with the songs so beautifully performed, we are given vignettes of her troubled life, literally from birth to death, yet with interludes where she was happy or at least thought she was, despite her relationship of the moment and there seemed to have been a few.
Carr has provided area theater-goers with many fine performances in other shows at other times but Friday night at Venice Theatre, in Wisgerhof's transformation of that basic black box theater into Emerson's, the talented actress became Holiday.
The addition of Billie's dog Pepi, played by one of three little dogs (Eleanor "Ella" Rigby, Maggie or Picasso N Motion) cast in that role, was simply one more perfect touch of realism to this tale so well told.
Kristofer Geddie, Venice Theatre's general manager and director of diversity, talented actor and director, demonstrated yet again his multiple talents as he gave us in the audience the cast and direction that brought Billie Holiday back to life for those who were fans long ago as well as for several younger people who never had the chance to see her perform.