talkinbroadway.com
Regional Reviews: Florida – West Coast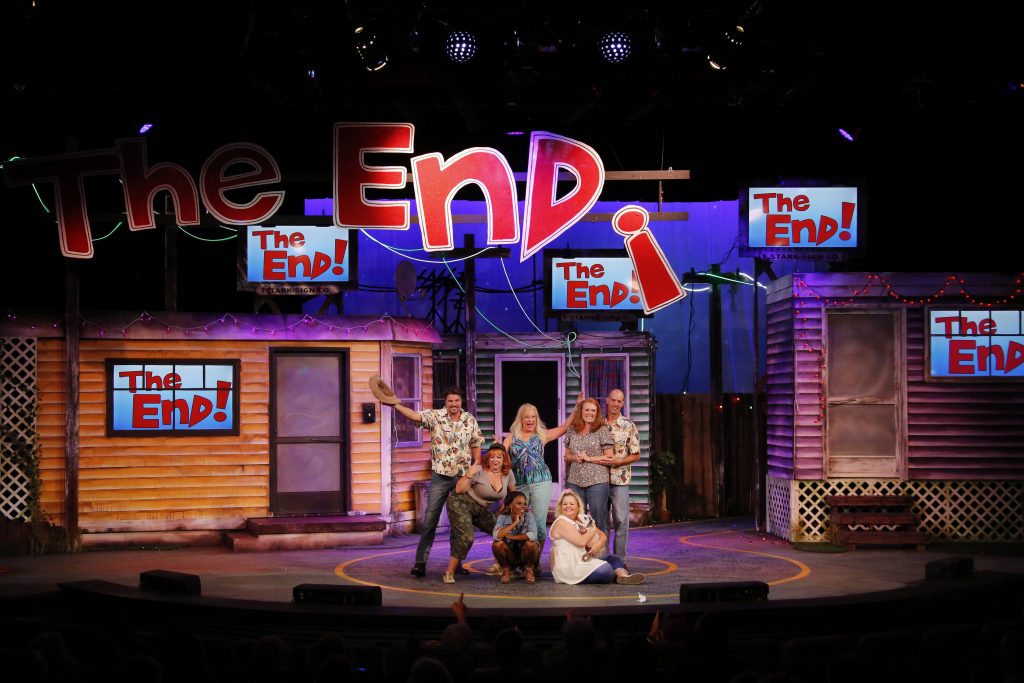 Venice Theatre had great success with The Great American Trailer Park Musical when they presented it twice before in their smaller Pinkerton Theatre. This time out it moves to the larger Jervey Theatre. Venice Theatre's audience seems to love both this musical and its holiday sequel.
The Great American Trailer Park Musical had a short Off-Broadway run in 2005 with some high powered talent (Schuller Hemsley, Orfeh, Leslie Kritzer), but this show is going to land better in the South and Midwest. It takes place in a fictional low-rent trailer park. Armadillo Acres squeezes them in, right on top of each other, and anyone with a few bucks is welcome. This doesn't mean that the residents aren't nice people—they are, and still they have their quirks.
The central plot is a love triangle. The wife is agoraphobic and has been for many years, the girlfriend is an exotic dancer, and the man caught between them is a toll collector. There is one more character who figures into this part of the plot and three women who act as a sort of Greek chorus, mostly commenting on the action and taking part when necessary.
The musical is reasonably cleverly written. Yes, the characters are somewhat stereotypical rather than emotionally honest, but several good character songs help the audience care and a pre-11 o'clock trio for the triangle really lands. It is not the greatest musical ever written, and it is not awful. As Ben Rumson ruminates in Paint Your Wagon, it's in between.
While this cast is strong, director Luke Manual McFatrich has not been able to release the underlying emotional honesty. His strength is that the production is lively all the way through, never lags, and there are no traffic jams, which could be possible because the basic set is quite complex and there are several added locations that come and go—this is a busy show. He is aided by Geena Ravella-Larson, someone new to me, as choreographer, who gets some fine movement from the cast.
The Greek chorus is made up of actresses who sport illustrious last names—they come from families well known to area audiences. Kim Gardner Kollar is Betty, the most demanding of the three roles. Kollar is well up to the task, singing and dancing really well. As Linoleum, Andrea Keddell is every bit her equal, and Darah Woomert as Donna "Pickles," proves that her talented boys (all three) didn't inherit it only from their father, Cory Woomert. This family needs to find a musical they all can participate in.
Colleen Buchmeier is properly mousey as Jeannie Garstecki, but that falls away when it's time to sing. Steven O'Dea is a real nebbish as her husband Norbert. It is never in doubt that he loves her, but 20 years of her affliction has taken its toll on this husband. DaNiesha Carr plays the girfriend/stripper. Her singing is outstanding, her acting is good, but I am thinking that several of the other parts listed in her bio (Sarah in Ragtime, Ti Moune in Once on This Island, and Susan in David Mamet's Race) fit her better than this bad girl. Seth Bracewell as Duke has one featured song and not all that much else to do.
Michelle Kasanofsky is the musical director, again demonstrating why she now holds the title Resident Musical Director. She is so versatile. I have seen her music direct John and Jen, Hedwig and the Angry Inch, and Shrek the Musical in the recent past and that is just scratching the surface.
The vivid set design is by the always amazing Tim Wisgerhof, with costumes by Maureen S. Demers, lighting design (particularly vivid in the storm scene which ends the first act) by John Michael Andzulis, sound design by Nate Blaweiss, and properties design by Lisa Million. This is a production where the technical elements are all top notch, everyone doing great work.
Based on past history, I suspect that Venice Theatre is going to have continued success with this musical. The audiences susceptible to its characters and the show's charms will find their way to see it.