By William S. Oser
TalkinBroadway.com
I am partial to the work of Andrew Lippa, a member of the post-Sondheim school of theater composers (which also includes Jason Robert Brown, Adam Guettel, and Michael John LaChiusa). His work is emotionally approachable and appealing to audiences beyond the cognoscenti, while retaining compositional clarity. Unfortunately some of his strongest work, written for San Francisco Gay Men's Chorus, I Am Harvey Milk and Unbreakable, remains somewhat hidden from general audiences. Lippa and LaChiusa wrote musicals on the same subject, The Wild Party, both performed in New York the same theatrical season and, despite the unpleasant characters who inhabit the story, I like the music for each, Lippa's for several showstopping numbers and LaChiusa's for finding the bittersweet underbelly.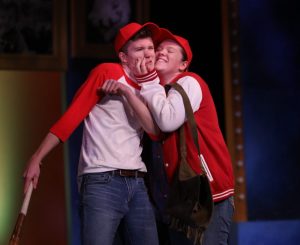 John & Jen (music by Lippa, lyrics by Tom Greenwald, book by both), currently being presented at Venice Theatre, is one of Lippa's earliest successes, beginning life at Goodspeed Opera House and enjoying an Off-Broadway run and numerous regional productions. It tells the story of a woman and her younger brother, strongly bonded because of family chaos. In the second act, John, killed in the Vietnam war, reincarnates as Jen's child. Despite this divisive era being more than 50 years in our past, there are always social issues which tear families asunder, making this story ever resonate.
Brad Wages' production features real-life brother and sister Casey and Kiley Berkery as John and Jen. Kiley is a 10th grader and Casey a high school senior, so immediately the emotional balances are a bit off. Kiley does very well by the first act but has a bit more trouble connecting with the earth-motherly Jen of the second act. Still, she lands a lot of the emotional punch this piece. Casey, as both Johns, is a whirlwind as only young boys can be. The physicality of his performance is marvelous, and he even manages to be two clearly different Johns. Both actors sing extraordinarily well.
Ordinarily, this two-hander chamber musical would be presented in Venice Theatre's Pinkerton black box, but with the necessity of social distancing (approximately 50 people spread across a theater that can hold 400), it occupies the mainstage auditorium. Fortunately, big emotions allow the show to be opened up in this manner with little damage. Wages' direction is one of the heros of this production.
Michelle Kasanofsky is at the piano with Mikal Mancini on electric keyboard.
Thanks to Venice Theatre for bringing what as far as I can tell is the area premiere of this powerful show, hitherto known to me only through two cast albums and a Stars in the House reunion. The show has been on my bucket list for a long time. It is powerful stuff.