By Morgan Simpson
Venice Gondolier
Venice Theatre's "She Kills Monsters: Young Adventurers Edition" stepped back into the '90s world of stereotypical geeks, bullies, jocks and cheerleaders.
As part of Venice Theatre's "Generations" series, "She Kills Monsters" was directed by Kelly Duyn and featured a range of young talent from around the area.
Set in Ohio during the 1990s, the play follows high school student Agnes as she discovers Dungeons and Dragons (D&D) following her younger sister Tilly's (Riley Vance) death.
After finding Tilly's D&D notebook, Agnes begins playing the game to learn more about her younger sister. 
Through a D&D lens, the play encompasses themes of loss and the stereotypical '90s high school tropes.
Agnes, a cheerleader, starts to sympathize with the world of gaming by understanding the game her sister loved and found comfort in.
Agnes' journey through the mythical world and high school was riddled with '90s-esque sayings and many pop culture references to the music and TV shows.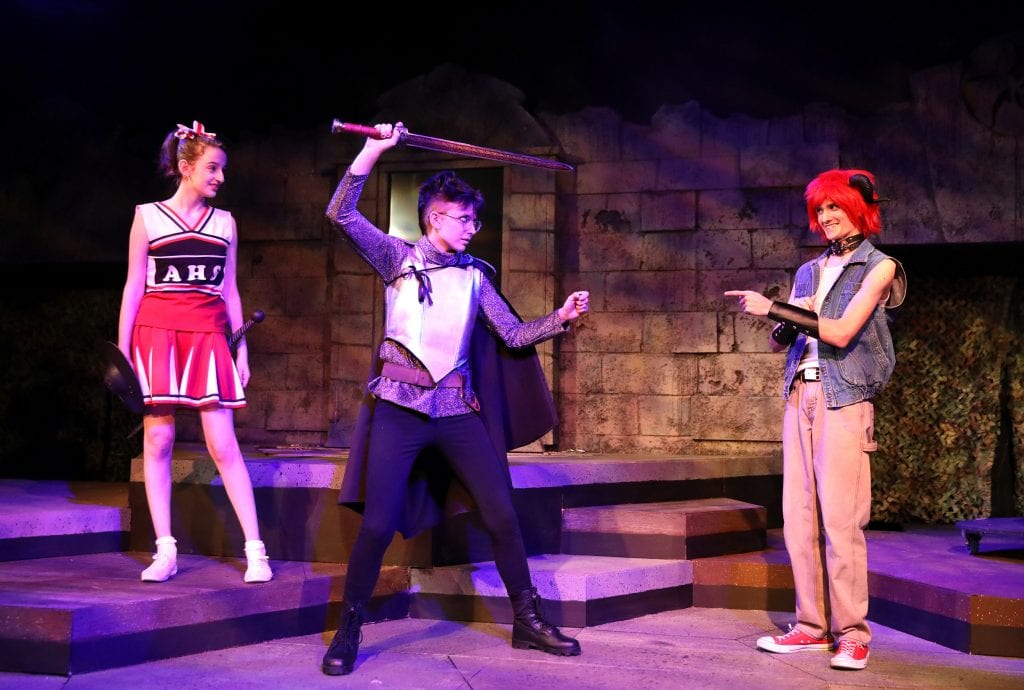 Since Agnes learns about D&D as the play progresses, it makes it easier for the audience to understand.
The cast played the characters well and seemed to have fun with the mythical theme.
When not showing comedic relief, Agnes (Thea Fennell) pulled at the heartstrings with the struggles, and regrets, of losing her sister.
Despite being melancholy at points, the Dungeon Master Chuck (Asher Woomert) helped Agnes cope by narrating the D&D game in a hilarious way.
The different mannerisms of the D&D characters were also portrayed well with Kaliope the elf (Anna Hunek) as level-headed and soft spoken while Lilith the demon (Alina Brennan) was more headstrong and loud.
Performed in the Pinkerton Theatre, "She Kills Monsters" had one of the most unique sets so far this season.
To coincide with the D&D theme, the set looked medieval in a faux stone-walled room with flickering candles.
The set was well done and included various raised platforms on the floor and other elements to make it practical for a mythical world.
A screen placed in the middle of the backdrop added to the game theme by announcing fight scenes, leveling up of characters, and the D&D player's biography cards.
Adding to the design, there was a creative portrayal of the monsters, including a dragon and a shape-shifting blobs.
The set, lighting and other special effects helped put the audience into the D&D world and understand the tabletop role-playing game visually.
Despite being performed by students, the play is recommended for middle school age and up. The play does allude to adult themes and has some adult language.