By Kim Cool, OUR TOWN EDITOR, Venice Gondolier
Main actor is female in this new telling of an old tale
Anything can happen in the Pinkerton Theatre at Venice Theatre. Through May 29, expect that and more.
Imagine giving a crazy guy like Shakespeare's "Hamlet" a gun. Put his mother and step-dad and the other characters in modern dress. Provide them with computers, cell phones, video cameras, microphones and other modern accoutrements.
As guns may not be enough to dispense with the bad actors, throw in an assortment of fencing foils and masks that will lead to the disposal of at least one character. Cups of poison may be a bit old school, yet a bit of that will move the story along in the same iambic pentameter used by the Bard in 1600, give or take a year.
Put all these characters in the 90-seat Pinkerton after Tim Wisgerhof, the theater's scenic guru, has transformed the space into a timber-framed medieval castle.
Then turn the theater's costume maven, Francine Smetts, loose to outfit all these characters in contemporary clothes ranging from traditional police detective wear to something avant garde for the queen with crowns for the royals and loose-fitting dress for a pregnant Ophelia (Allison Guerrero-Heideman), proper fencing mask and jacket for a duel, more casual wear for a TV cameraman and reporter plus something suitable for a modern-day grave digger (Dennis Berkery).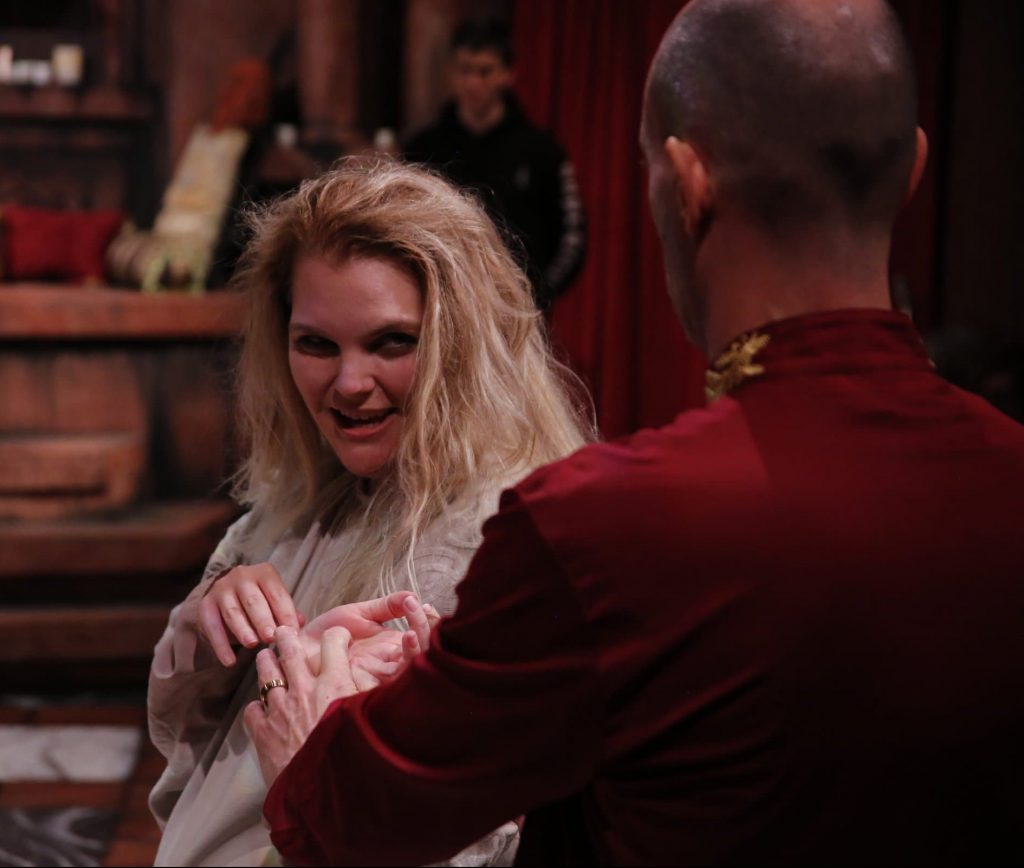 Add video graphics by Amity Hoffman, projections by Brian Freeman and Wisgerhof (he also acts but not in this production), light board operation by Alyssa Goudy and the assistance of dressers Judy Toscano and Melinda Michlin and you have main-stage production quality.
With all that support and Chase's direction, this production was mainstage calibre, yet more interesting because of that black box space.
Shakespeare used all men for every role — male or female.
Chase was gender blind in his casting. He used the best he could find for every role. In the case of Samuels, the best was a female — Vera Samuels.
The role of Hamlet is huge and so are the challenges because of the character's manic-depressive nature. Not only does he have major mood swings but Hamlet does not deal well with losing his father and the late king's replacement, Claudius (Steve O'Dea). Nor is he totally happy with his mother, Queen Gertrude, who is so ably portrayed by Kim Gardner Kollar. This cast is long on stage experience. Jeremy Guerrero-Heideman is an excellent Laertes but that was to be expected, given the stellar roles he has turned in at Venice Theatre since 2007. The same is true for Candice Artim in the role of Polonius.
Zach Tudor has returned to Venice after 10 years, fortunately in time to play the role of Horatio. Rounding out the cast and playing multiple roles are Megan Hendrick (Bernardo, Guildenstern, Player Queen, Captain, Priest and Cameraman) and Shannon Maloney (Marcellus, Rosencrantz, Lucianus, Interviewer, Announcer and Osric). Hendrick is the only one new to this theater but not to the stage.
The stature of this theater and its creative team, led by Chase, facilitates its ability to draw experienced actors as well as seasoned volunteers for the myriad additional jobs needed for such a polished production in what began as literally a plain black box, albeit one with entry/exit spaces on all four walls.
While that is true in the Jervey mainstage theater as well, three aisles and all those seats plus a balcony interfere with the intimacy experienced in the smaller space. A duel held just four feet away is far different from one seen from the second row of the balcony or even the front row seat some four feet below stage level.
Anyone who has not been to a show in the Pinkerton has missed the chance to experience theater in this special way. "Hamlet" is a good place to begin.